One of the common questions we come across is people asking us how to use apple headphones as mic on pc? Well if you have the same question, keep reading and you will know exactly how to use apple headphones as a mic.
Apple headphones are designed for Apple products.
This means that there can be several compatibility issues while trying to connect Apple headphones to pc.
In case youre in a situation where you have no other headphones and you need to use these headphones for a an urgent Skpe meeting or Zoom call, then this guide will help you out.
Can You Use Apple Headphones On Pc
Yes, however since apple headphones are designed for Macbook and Iphone there are some connectivity issues.
Its not a straight forward plug and play process. Although they are designed for Apple products, you can still use them on a pc.
All you need is Apple headphones with a connector and youre good to go.
1. Earphones with 3.5mm Jack
The easiest way to use apple headphones as a mic on pc is to have the proprietary 3.5mm cable which can be connected directly to your pc.
Most Pcs have a single slot for audio and mic. However if your Pc has different slots for audio and mic, then the third method will be ideal for you.
2. Lightning Cable to USB-A Pc Connector
In case you have the recent earphones that come with the lighting cable then you will need this Lightning cable to USB- A connector which you can use to connect to your pc.
Recently, Iphone has been manufacturing headphones with lightning ports ever since they got rid of the 3.5mm jack from their latest Iphone models.
3. Audio Splitter (If Your Pc Has Two Slots)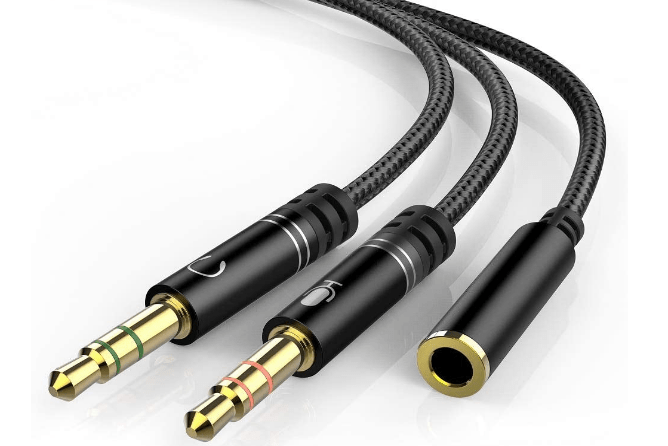 If your Pc has two slots you can use an Audio splitter due to which you can use the headphones to hear music and communicate on calls as well.
In case your headphones as a single slot, you dont need this audio splitter and can connect it directly.
How To Configure Audio Settings Once You Have Connected Your Headphones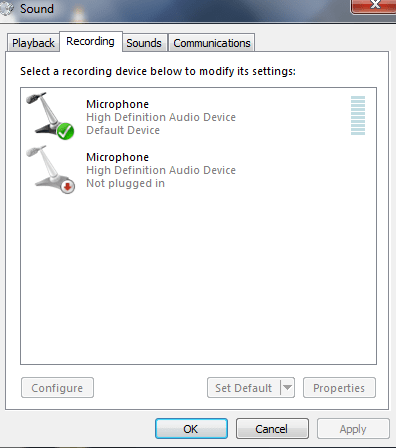 Open Control and Panel and go to Hardware and Sound. Under hardware and sound, click on sound and look for Manage Audio Devices.
Once you open the sound tab look for Recording. Under Recording it will show you if the microphone of the headphones are connected and functioning properly.
Left click on the Microphone profile and set it as default. This will save you the effort of doing this manually every time you connect it.
To adjust the volume of the Microphone, click on properties and look for Microphone properties.
Under Microphone properties, click on Levels tab. Under levels tab you can adjust the microphone levels and the microphone boost as well.
Once you are done, just Apply the settings and click ok to save them.
You can increase the microphone boost however maxing it could lead to loss in the quality of voice that would be transmitted to the receiver.
What To Do If Your Headphones Are Not Getting Connected
In most cases this does not occur, however if this happens to you, go to the menu option and search for sound settings.
Under Sound settings look, select your Apple headphones or earphones as Input device and youre good to go.
How to Use Apple Earphones For Zoom Call
After you have connected your Apple earphones or headphones, launch the zoom application.
Once you attempt to join a meeting, you will receive a notification from Zoom to test your audio and mic.
You can test speaker and microphone. However, if you are not able to hear yourself, select the drop down of speaker and look for your headphones.
Once you have selected your earphone or headphone, you will be able to use your Apple earbuds or headphones for zoom call.
How To Use Apple Airpods Skype Or Zoom Calls
The methods stated above to connect apple headphones or earphones may not work for airpods since there is a different way to connect them.
Open your bluetooth and connect your airpods to your computer. You can do so by searching bluetooth in the startup bar and you can pair your Airpods with your Pc.
Once you have paired and connected your Airpods, open control panel and Click on Hardware and Sound. Under this Tab, look for Manage Audio devices or click on sound.
After the Sound tab is opened, go to the Recording Tab.
Under Recording Tab you will see your Airpods connected and they maybe named as High Definition Audio.
Click on the properties button below and look for drivers tab. Under the drivers tab, click on update drivers and you can use your Airpods for Skype or Zoom calls.
Conclusion
This post was an indepth tutorial on how to use apple headphones as a mic on pc. Let us know in the comment section if these methods worked for you.
Due to compatibility issues, we have suggested different workaround methods that you can use to connect apple headphones as mic on pc.
Check our recent content on headphones, speakers, earphones and soundbars.